Our Promise to You
Messiah Church, being guided and directed by God's Word, welcomes all with Christ-centered love, announcing God's unconditional forgiveness and grace, and is prepared to provide timely compassion in your life.
What do you believe? – We believe in God's Grace, Faith in Jesus Christ for Salvation and the Bible is God's inerrant word to us.
What kind of music is sung? – You can expect a variety of music at Messiah worship service.  We use drums, guitars, keyboard and sing primarily contemporary praise and worship songs and some old familiar hymns.  The music varies in style from jubilant praise to reflective meditation and reflects the over all worship theme for the Sunday message.
What is worship like? – While being current and casual in style, there are liturgical elements such as:  Three Bible readings, Confession and Absolution, Lord's Prayer, Apostle's Creed, Holy Communion (each Sunday) and Baptisms as needed.
Do you have a Children's Church? – There is a staffed nursery available and a Children's message each Sunday, but no separate children's church.  We believe it to be important in the child's spiritual development to see and worship with their parents as they are ready.
What should I wear to worship? – There is no dress code to come and worship.  Jeans and shorts are certainly permitted, but please use discretion and modesty in what you wear.
Where are you located? – We are located at 2072 Hwy 14 East, Prattville, AL in the Pratts Mill Shopping Center.  Even though we are located in a shopping mall, don't let the location fool you!  Our worship center is over 3000 sq ft and has seating for 125 people and potential for 175!  The setting is casual and contemporary in feel, yet retains an atmosphere of worship and of sanctuary.  There is ample parking and we are fully handicap accessible.  We are located in the two-story building directly off the elevator.
Will I be welcomed? –   Whether you are permanent resident or just here for a short military assignment you are welcome at Messiah Church!  We make no distinction or judgment as to who you are, where you come from or what church background you grew up in.  Grace abounds at Messiah Church!
What time does worship start? – Our worship service begins at 10:30 AM and usually runs 55-70 minutes.
Do you have Sunday School?  – Sunday School for elementary, junior, and senior high kids as well as Adult Bible Study begin at 9:15 AM. (September through May)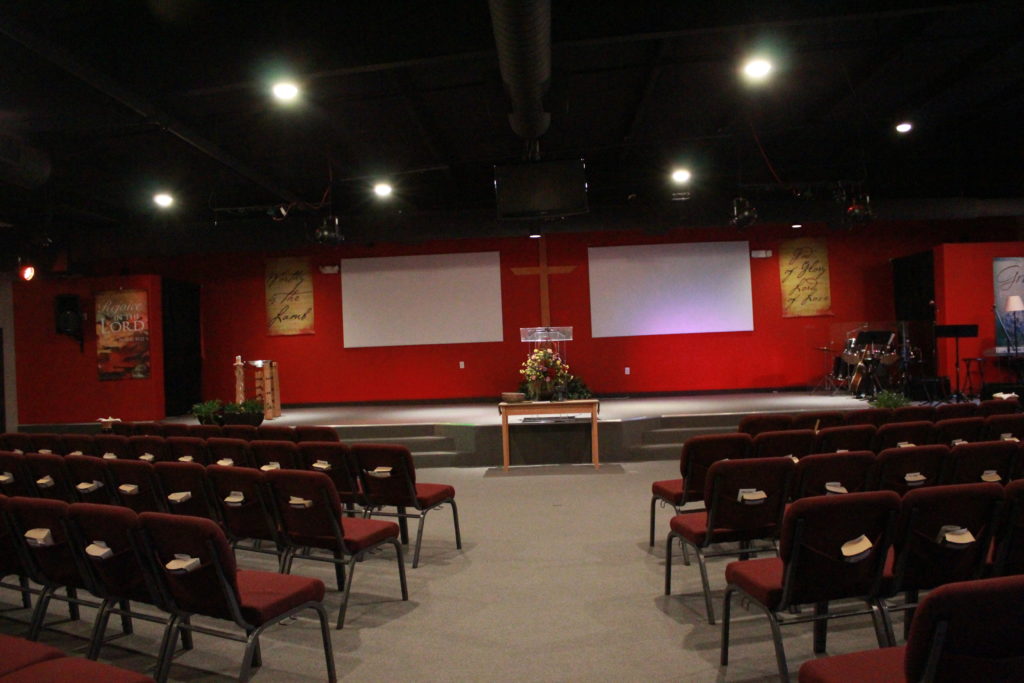 Plan a Visit
Whether you have been around church your entire life or this is your first time, Messiah Church has something for you. There is no dress code. You'll see some people in suits and others in jeans and a t-shirt. Wear whatever makes you comfortable! Our mission is to share Jesus and God's message with others.